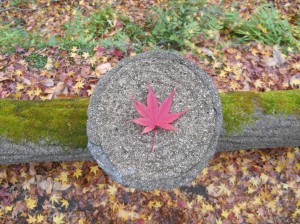 Minoh Visitor Center
The Minoh Visitor Center is open to everyone and free of charge.  You can see valuable insect specimens given to the Visitor Center by collectors as well as stuffed specimens of foxes, monkeys and deers found to inhabit Minoh mountains.  You will also find a photo gallery of wild birds and plants found to live in this regiion.  If you have a picnic plan, then " Momiji Hiroba " ( open space with picnic tables ) is a perfect spot to go to right by a beautiful river by the visitor center.

icon-edit Access by Car
It takes about 5 minutes from the Dainichi Parking Area.  Follow the road until you see small sign on your left.  Free parking.  Closes at 16:00.
icon-edit Access by foot
You must take the road for vehicles so take caution, 45 minutes from Minoh Falls.  At midpoint you will come across the Dainichi Parking Area and from there walk about 25 minutes.  The Visitor Center entrance is on your left.

icon-edit Opened
10:00~16:00 ( Apr. to Nov. Saturdays and Sundays open 9:30~17:00 )
icon-edit Closed
Tuesdays ( or wednesdays if Tuesday is a National Holiday ) and New Year's ( from Dec.29th ~ Jan 4th )
| | |
| --- | --- |
| Vacation Rentals Near Minohfalls | I will arrange your accmmodation for you. This is my other website - Vacation Rentals |