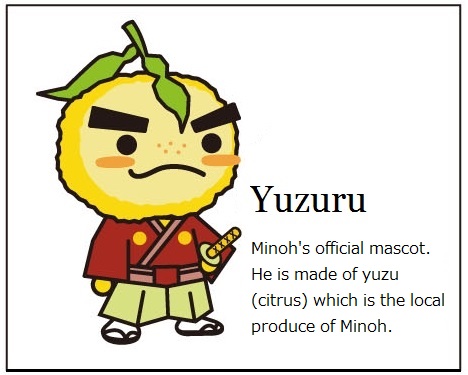 Tourist Information and Footbath

A tourist information box is in the Minoh station building,  where the footbath is located.  Once you exit the station,  you will find the tourist box on your right alongside the building.  Entrance fee for the footbath is very reasonable ( 150 yen ) and you can receive an original towel.  I recommend you to take the footbath after your hike to Minoh Falls in order to rest your feet.
Open:  10:00~16:00 ( Monday~Friday ),  9:00~17:00  ( Saturday, Sunday, National holidays and November )
Close:  Every Thursday ( except in November ),  and day after National holidays
Entrance fee: 150 yen
Momiji-no Tempura ( deep-fried Japanese maple leaf sweets ) and Yuzu sweets

Soon after starting the hike to the Minoh Falls, you can see shops selling Momiji-no Tempura and yuzu sweets. 
Momiji-no Tempura is a deep-fried Japanese maple leaf sweets.  A person named En-No-Gyoja first cooked these sweets and treated them to travellers who came to Minoh 1,300 years ago. 
You can find refreshing sweets made of yuzu ( citrus ), which is a local produce of Minoh.  They taste and smell of citrus fruits.  Both prices are about 200~300 yen for one piece which you can eat while walking to Minoh Falls.

Yuzuru-No-Ashiyu ( Footbath )

Just 3 minutes from Minoh Station on Nov. 7th 2014, a new footbath "Yuzuru-No-Ashiyu" opened free of charge in front of the elevator up to Minoh Kankou Hotel ( Minoh Onsen Spa Garden ).  You can conveniently purchase a hand towel for 100 yen at the entrance too.  The palce is for anybody with no charge.  The hot water is the same as the Spa Garden with beauty benefits.  Yuzuru-No-Ashiyu is spacious and clean and can be refreshing for your tired feet after your hike up to Minoh Falls.
View from Minoh Kanko Hotel

After walking by the souvenir shops, you will see a big elevator on your left side which leads you to Minoh Kanko Hotel.  You can go up to see a panorama view of Osaka Prefecture.  This hotel has a spa called Minoh Onsen Spa Garden where you can take a bath as a visitor for the day  ( featured on the link below ).
Access: 5 min walk from Minoh Station
Entrance fee: Free to view

Minoh Onsen Spa Garden
Go to featuring Minoh Onsen Spa garden page.
Saikouji Temple

Right after passing the first bridge you see called Ichinohashi on the way to Minoh Waterfall, you will see a second bridge on your right which leads you to Saikouji Temple.  It takes 10 minutes or so, walking into the mountains after crossing the second bridge to Saikouji Temple.  Saikouji Temple was established by En-No-Gyoja in year 658.  The sacred Daisho-Kangiten God is enshrined and worshipped in the main building in Saikouji Temple.  In ancient Indian times, Daisho-Kangiten God was called Ganesh and was known as the God of wisdom and luck.  In the temple there is a stone where En-No-Gyoja and the old man who was the incarnation of the Daisho-Kangiten God sat and talked with each other.
Access: 15 min walk from Minoh Station

Minoh Insect Museum

Minoh Insect Museum is one of the biggest insect museum in Japan which was built in 1953.  You can see over 6,000 samples of insects and 200 live butterflies ranging up to 30 species.  The exhibition rooms consist of various themes such as life cycle of insects,  communication patterns of insects,  insects living in water and more.
Access: 15 min walk from Minoh Station
Entrance fee: Adults 270 yen *Free admission for children under 12 years old and Internationail students ( student ID is required )
Open: 10:00~17:00
Close: Tuesdays

Ryuanji Temple

Ryuanji Temple was established by En-No-Gyoja who was a legendary magician in the year 658.  Benzaiten, a goddess,  helped him to be enlightened by doing meditation under the Minoh Falls.  He worshipped Benzaiten in the Ryuanji Temple in appreciation of her.  It was destroyed by a fire in the 16th century and was then rebuilt.  It is also known as the birthplace for what is now known to us as the lottery throughout Japan.
Access: 15 min walk from Minoh Station